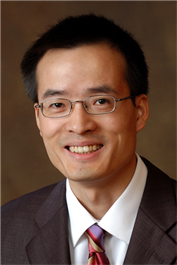 Hello!
Dr. Morton Lane, the founding director of the MSFE program, retired in September 2021. I am excited to have the opportunity to serve as the interim director.
The program has been recovering from Covid-19 impacts. The class size is on the rise; and student placement is encouraging. Out of the 42 graduates of Class 2020 who were seeking employment, 26 were placed in the United States. Employers include banks, exchanges, trading companies and various financial institutions (e.g., Bloomberg, CME Group, Goldman Sachs, Citicorp Credit Services, Houlihan Lokey, Santander Bank, Valkyrie Trading, Federal Home Loan Banks). Others went back to their home countries, working for companies such as CICC, Ping An, LUFAX, Harvest Fund.
In the Practicum course in Fall 2021, students use statistical and machine learning methods to analyze how Bitcoin and Bitcoin Trust prices
evolve, how sentiment analysis can be used to construct high performance portfolios, and how financial entities cluster based on various risk attributes. The projects are sponsored by friends of the program such as CME Group, Social Market Analytics, and RCM-X.
On October 25, 2021, we had our first MSFE Seminar: How I Got a Quant Job. Panelists included:
Han Wang, Class 2020, Quant Risk Management Analyst, CME Group,
Pianpian Yu, Class 2020, Market Risk Modeling & Research Analyst II, Federal Home Loan Bank of Indianapolis,
Chong Zhao, Class 2020, Financial Analyst, Houlihan Lokey,
Yi Zhou, Class 2021, who will join Capital One as Senior Associate, Data Science.
They shared their experiences on when to start looking for jobs, types of questions asked in interviews, how to prepare for them, how to choose elective courses, etc. The seminar was highly appreciated by our new students. We are grateful that our panelists spent time during their busy schedules and came back to help current MSFE students.
It has been difficult in the past two years because of Covid-19. But, our program staff, Amy Lamb – Program Coordinator, Matt Murphy – Financial Technology Coordinator, and Lauren Redman – ISE Assistant Director for Graduate Programs, have been working so hard to make the program a superior home for our students. I am so thankful for their dedicated services which make the program so much better. Additionally, we have been able to return to in-person learning on our campus thanks to the efforts of our
University Shield Program
. Utilizing our own Covid testing protocol and implementing a vaccine policy for all students, faculty and staff, has allowed us to open our facilities and closely monitor any community transmission.
If you are looking for talents, please do not hesitate to contact us. Our students are eagerly looking for internships and full time positions. If you are interested in applying to our program, this website contains a lot of information you might be looking for. If you have any questions about the program, please feel free to let us know. We look forward to hearing from employers, prospective students, alums, and all friends of the program.
Sincerely,
Professor Liming Feng
Interim Director, Master of Science in Financial Engineering
Associate Professor, Department of Industrial & Enterprise Systems Engineering
University of Illinois at Urbana-Champaign